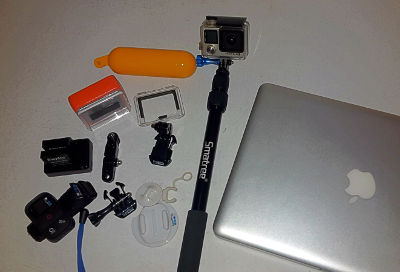 Equipment for Vlogging
My personal recommendations for Vlogging Equipment:
On this page I will try to keep you up to date on what equipment I am currently using for my travel vlog, equipment that I wish to use in the feature which is on my wishlist. Also you will find recommendations for other vlogging needs other than only that what is actually useful to my special travel vlogging needs.
Jump directly to the topic you are interested in:
The Vlogging Equipment, that I use myself:
Vlogging Camera

 I personally use a GoPro Hero 4 Silver Edition. For my needs it is the perfect camera. Why? It provides really everything I need:

Full HD or up to 4k videos in awesome quality
Up to 120 Frames/second for smooth slow motion shots
I can take it everywhere with me – water, snow, dirt – doesn't matter.
Mounts for every kind of activity
Wide angle or usual narrow field view as a normal camera
Display on the back so that I can check my shots quickly
Only downside for me: To get the footage on my pc is often a pain the a**. It doesn't go smoothly as soon as there are some corrupt files on the camera and requires than lots of dis- and reconnection the camera to the pc.

If you want to see more alternatives and a in depth analysis of what to look for when you decide on your vlogging camera, you might want to read this article on stefanrtw.com.

Camera Mounts

 Depending on the kind of VLOG you want to do, you'd want to be filming during any kind of activity. That is why you probably need more than just a handheld camera. I also used those mounts quite frequently:

GoPro Monopod / Selfie Stick / Telescoping Pole (using this for a lot more than just selfies)
Helmet Mount (Snowboarding, Kitesurfing, Wakeboarding)
Kite Line Mount (for Kite Surfing only) in Combination with the Go Pro remote control
Mount for Surfboard
Floating hand held mount

Software & Hardware I use for video editing

 I am using a Mac Book Pro for my video editing. This comes automatically with IMovie which is an awesome software for video editing. Many features and very intuitive and easy to use. If you do not own a Mac I can recommend the following two options:

Windows Movie Maker – It's free, so it's good for the start. If you are really serious about video editing you might consider switching to…
… Adobe Premiere. Which is really High End Video Editing Software and you will probably need some time to work your way through.(Pretty expensive)
The Vlogging equipment that is still on my wishlist:
Vlogging Drone

 I really really bad want a drone for my travel vlog but until now I have not made that little present to myself since it is a pretty costly gift. Of course there are very cheap drones on the market but in my opinion those are toys and not sufficient for serious vlogging. The most interesting products on the market right now in my opinion are:

DJI Mavic Pro
Karma von GoPro
Vlog Lighting
 Since I myself usually don't sit in front of the camera in a room while vlogging but be outside somewhere on the run, I cannot worry about lighting equipment and since I am have no experience with this topic, I'm not able to give you got advice on this one. So, instead I recommend that you check out this comprehensive article about Lighting for vlogging from Stylecaster
Vlog Microphone
 Same as for the lighting I don't have much experience with external microphones for vlogging since I cannot bother to carry a external microphone on my travels. Instead check out what B&H hast to say about the audio basics of vlogging
Vlogging with Iphone
 Well, myself I am using an Android phone but this topic still seems to be quite of interest. Also the tipps for doing a vlog with your smartphone are not so much different whether you use an Iphone or any other smartphone.
On "Become a Blogger" you will find some helpful advice on how to vlog with your iphone